Hoy en día para ser respetuoso con el medio ambiente o ser una persona con conciencia ecológica debemos entender primero la fragilidad de nuestro medio ambiente y protegerlo de los daños que le causamos.

Tomahawk Skateboards está continuamente evolucionando para conseguir productos que sean respetuosos con el medio ambiente y que a la vez supongan, para el usuario, un beneficio notable en su forma de entender el skate.

Fruto de este compromiso, hoy lanzamos al mercado la Placa R.
¿Qué es la Placa R?
R de Recovery
R de Ready
R de Ride more
Este sistema hace que con una pequeña modificación sobre tu e-skate, que puedes hacer tu mismo, consigas recuperar energía para recargar tu batería en situaciones tan habituales como soltar el acelerador del mando mientras haces carving, bajar una cuesta sin acelerar, o mientras empujas en llano aunque la batería se haya agotado.

Esto consigue que nuestra máquina sea mucho mas eficiente y podamos hacer mas kilómetros con una sola carga.
¿Magia?
No, por supuesto, pero casi. Hemos implementado para nuestros skates, lo
que la mayoría de vehículos tanto híbridos como eléctricos llevan haciendo algunos años. Hemos realizado un sistema de recuperación que cambia la energía cinética y la transforma en energía eléctrica, llevándola directamente a nuestras baterías.
Para ello utilizamos equipos electrónicos de última generación y de reducidas dimensiones, con una huella ecológica muy baja, y de unas
dimensiones muy reducidas.
Tests carried out by experts
The tests carried out in the field by our experts have given excellent results, demonstrating very satisfactory energy load recovery behaviors.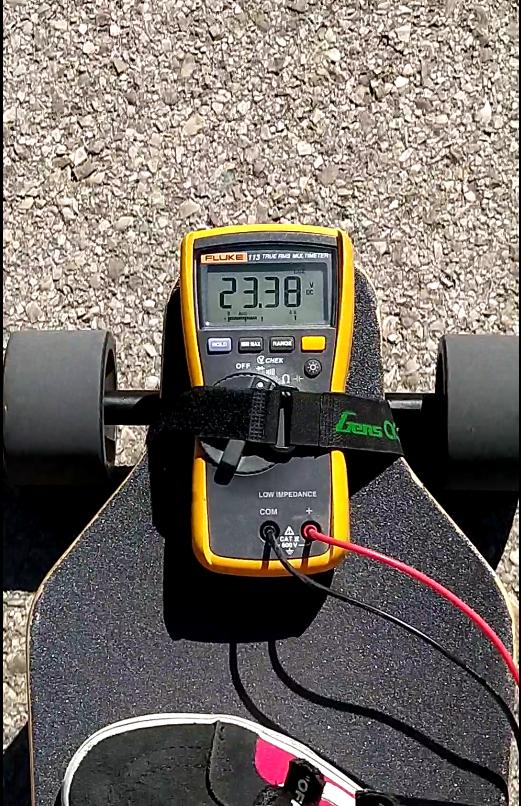 Here we see a photo of our tests carried out at a speed of 12.3 km/h we generate a voltage of 23.38V and a current of 430mha
Benefits
La placa R, nuestro dispositivo para recuperación de carga de energía en tu monopatín eléctrico, es apto para skateboards de uno a cuatro motores.
Es fácilmente instalable, en pocos minutos podrás ponerlo en marcha.
Integrado en tu sistema y totalmente compatible con tu electrónica de control.
Recupera entre un 5% y un 15% de tu batería. Depende de varios factores (inclinaciones, velocidades, forma de patinar, etc.) pero es una ayuda que se nota.
Technical specifications
Para baterías de entre 7S/2P a 12S/4P.
Puedes adquirirlo con conectores Plug And Play o para soldar los cables de tus motores a la placa.
Dimensiones: 50mm x 70mm x 20mm.
Peso: Entorno a 70gr.